Celebrate Toontown's Birthday With a Special ToonCast!
Posted by The Toontown Team on
June 2, 2020 at 2:00 PM
Grab your party hats, everyone, because we're celebrating the
17th Birthday of Toontown!
You read that right: Toontown has officially been around for seventeen wacky years, and there's plenty more to come. To celebrate, we're going to be hosting
a special celebratory ToonCast
all about Toontown and its community!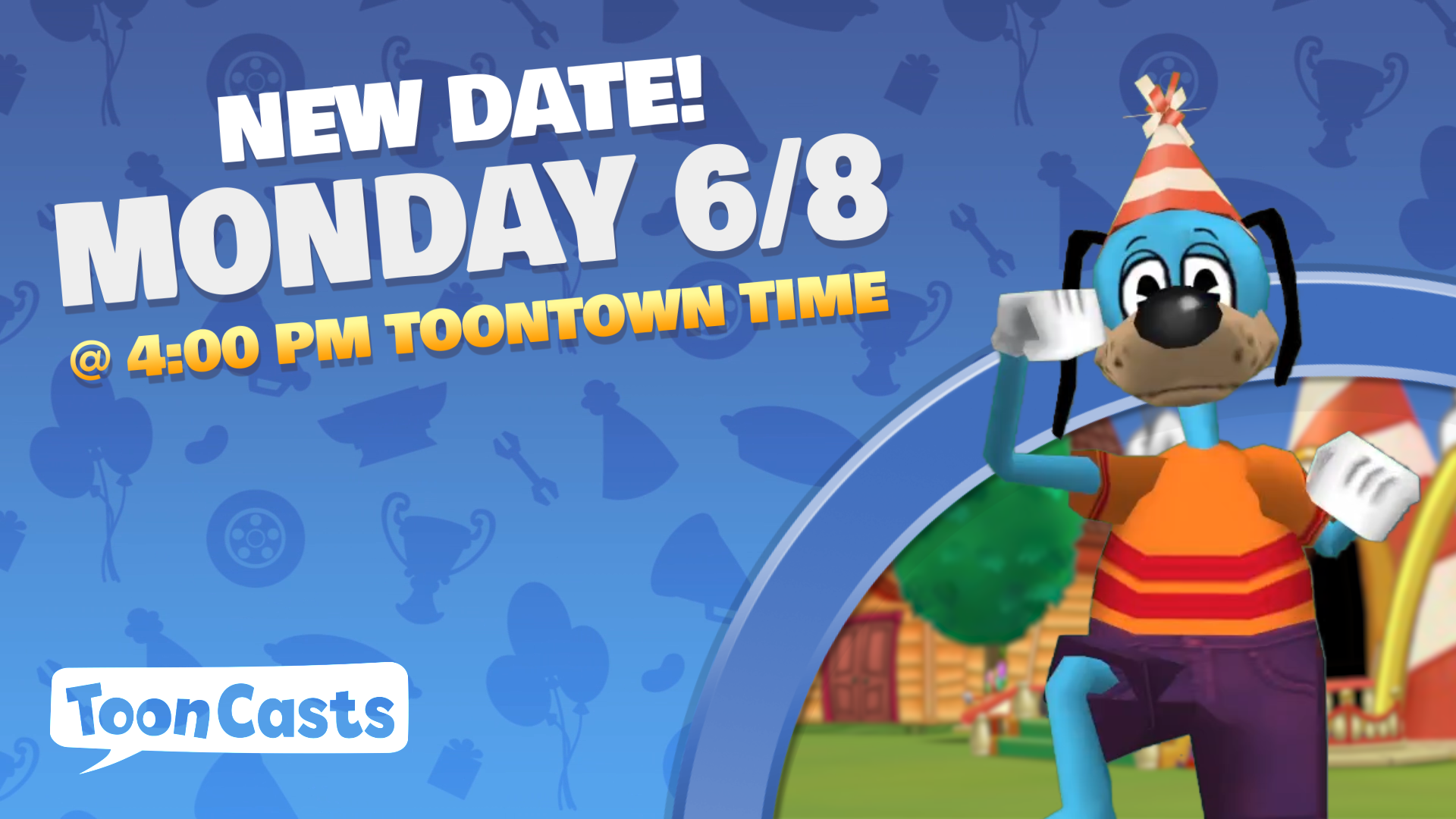 What's a "ToonCast" you might ask? Think of it as a "backstage" look at some of the things we've been up to recently. In January, we highlighted our progress on
Sellbot Field Offices
. While we'll share a brief update on that project during this ToonCast, the main focus of this one will be to look at some other exciting projects we've put together for our community!
While we love sharing inside information on all of the hard work that goes into keeping the dream of Toontown alive, we understand that we may have gone overboard at our last ToonCast. Thanks to YOUR feedback, we are creating what we hope will be a more fun and entertaining event for everyone. We're excited to hear what you think!
Interested in attending? This ToonCast will be livestreamed on
Monday at 4:00 PM Toontown Time (PDT)
! We can't wait to get you up-to-date with some exclusive backstage info. At the end of the stream, we'll also be hosting a Q&A session to satiate many of the burning questions you might have about the Tooniverse.
If you haven't already, make sure to subscribe on
YouTube
or follow us on
Twitch
to ensure you don't miss out on the event. Now it's time to grab your popcorn (or perhaps a celebratory birthday cake), sit back, and get ready for our ToonCast on Saturday!
---
Note from the Toontown Team:
Hi everyone! We sadly must report that today's ToonCast is being rescheduled for Monday at 4:00 PM Toontown Time (PDT) due to unexpected schedule changes. We know that many of you are really looking forward to the event, and these extra few days will allow us to make it the absolute best that it can be. We are deeply sorry for any disappointment caused by this news, but we'll be hard at work to make sure the wait is worth it when you see what we've been cooking up on Monday!