Let's Hear it for the Truehearted Top Toons!
Posted by Toon HQ on
January 2, 2020 at 6:00 PM
This is Toon HQ, and we'd like to wish all of Toontown a very Happy New Year! It's the start of another fantastic year, and we've got lots of brand new Top Toons to award our
squeaky
clean new medals themed after the Year of the Mouse.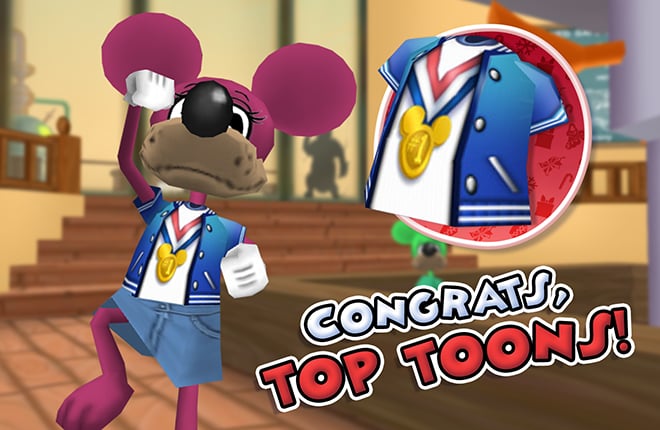 The following list is separated into two categories, Cogs Defeated and Floors Recovered. Each category has winners from each hour from all throughout January 1st. If you're one of them, your name will be down below!
NOTE:
Don't see your Toon up there?
Toons linked to the same household or same computer were only listed once to keep it fair, but ALL qualifying Toons will still receive their prize! You may only see one of your Toons on the list, but any other of your qualifying Toons will receive the prize as well.


Toons who have received a serious infraction shortly before, during, or after the event have been disqualified. Toontown should be fun for everyone!


If you think that your Toon hasn't been listed by mistake, please contact us by email at support@toontownrewritten.com! Mistakes can happen, so we'll look into the issue for you. (Such as, if a friend or sibling played on a Toon in your household.)


Prizes will be given to all qualifying Toons within twenty-four hours time.
We've been seeing some record-breaking achievements over this recent Top Toons event -- we could hear the foghorns and cannons going off from every corner of the town! A whopping total of
over 215,000 floors
were cleared from Cog Buildings over the course of the event, and an astonishing amount Cogs were defeated --
over 540,000
of them! In other words,
over half a million Cogs were defeated in just one day.
Needless to say, the work done yesterday will throw a major wrench into the Cogs' plans.
If you saw your name up on this list, you should receive your "Victor's Varsity" jacket within twenty-four hours time, straight to your Toon's mailbox. If not, send us an email and we'll be sure to see what's holding up Clarabelle!
We hope you all have a Happy New Year and have fun in Toontown!