Partner Spotlight: Ugly Corny, Moose, and Thomas the Toon Engine
Posted by The Toontown Team on
September 21, 2020 at 3:00 PM

Have you ever wondered what it would be like if Toontown's skies were always dark? Have you ever wanted to see Sellbot HQ bathed in molten lava? Do you want to live in a Toontown themed around Thomas the Tank Engine? Content Packs and their dedicated creators make all of those things possible and more! We sat down and talked with our three Content Pack partners: Ugly Corny, Moose, and Thomas the Toon Engine to learn more about their experiences.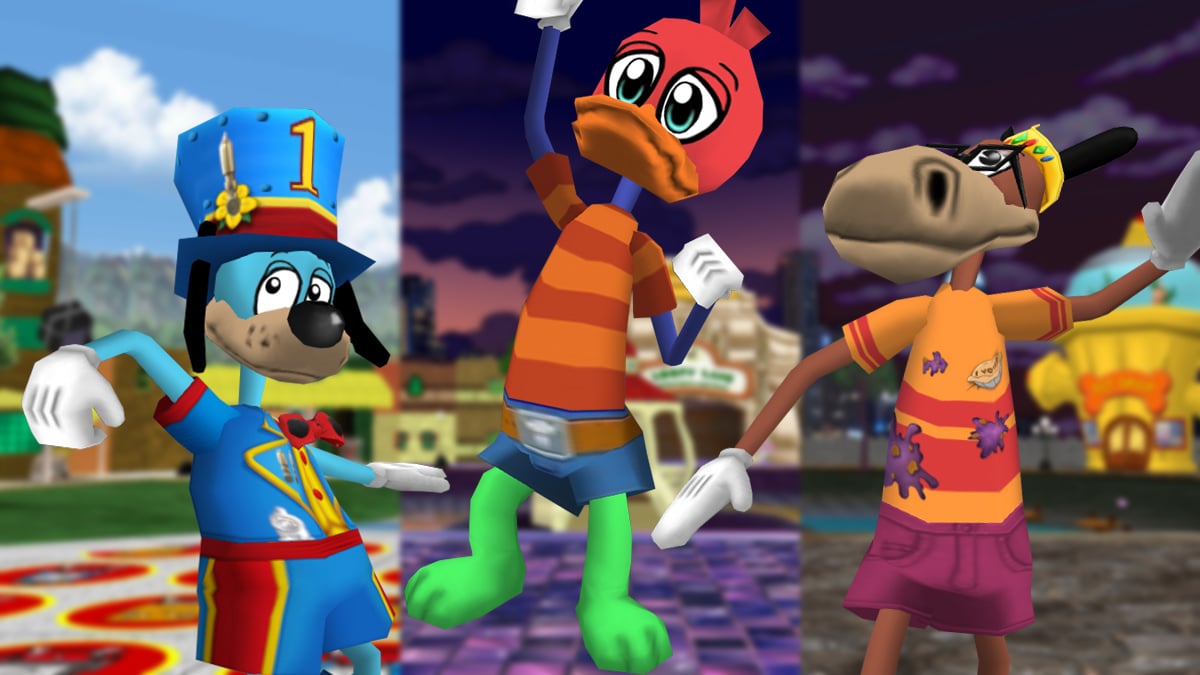 Content Packs are ways for players to integrate a new look and feel to Toontown without affecting the gameplay of others around them. They work as a result of creators providing players an alternate set of files to put in their Toontown Rewritten folder. These files then become what the game uses to create the player's experience. By altering and creating new textures, incorporating new music and SFX, and crafting compelling visuals, creators design fresh versions of Toontown for players to enjoy and toggle between.
Existing for almost as long as Toontown has, Content Packs have long been a medium for players to express themselves and create new Toontown experiences. However, the climate in which Content Packs exist -- once associated with cheating and ban-worthy game modifications -- has changed drastically over the years.

Ugly Corny Spotlight Interview
Ugly Corny, a Content Pack juggernaut whose work has been admired and downloaded by thousands of Toons over the years, recently expanded his platform, rebranding his personal website into a Content Pack hub for all creators. To begin, we asked Ugly Corny to take us back to the beginning with where it all started for him.
I first started making Content Packs back in 2011 when I was basically a kid, I had to use a program called The Toontown Spoofer, it was a $30 (USD) program that absolutely violated Toontown Online's terms of service in almost every aspect, lol. It was a custom Toontown launcher that had a lot of cheating programs included. At the time, "Toontown Nightlife" was really the only popular Content Pack available, as it was the one included with The Toontown Spoofer. At the time, most Content Packs were smaller edits to include with Toontown Nightlife (we call those Content Pack mods now), so I wanted to make my own from the ground up. And as a disclaimer, I don't condone the behavior this application was able to provide people.
We've come a long way from Toontown Spoofer days, in large part thanks to Ugly Corny's work. We asked him about the rebrand of his website and its community impact.
The rebranding of my website is quite simple actually, instead of having the focus be on my Content Packs (Toontown At Dusk, Toontown After Dark), I wanted to give the community an open space to be able to share their creations with the entirety of the Toontown Community. There wasn't necessarily a specific area within our community to share Content Packs officially, so I wanted to try and create a space where people can share what they've created with everyone else.
Here's what he had to say about the experience of making Content Packs for others.
One of the most gratifying experiences of making Content Packs is seeing the joy they give people. Toons have told me that they feel like they are able to express themselves through Content Packs, and it's genuinely one of the best feelings ever. I'm so happy and humbled to be able to give people joy, especially during this troubling year. And not just my Content Packs either — people LOVE every Content Pack hosted on my site right now, I encourage everyone reading this to give all of the Content Packs a try!
Lastly, we just had to know, out of all the Doodle names, which one was his favorite!
My favorite doodle name is definitely Bean! Because doodles are the cutest bean shaped pets ever.
Has there ever "bean" a better name?


Moose Spotlight Interview
Moose is the brains behind Spectrum, the Content Pack with themes up the wazoo! It has been downloaded over 700 times from contentpacks.net.
Roughly two years ago, I had only basic knowledge of how to create content packs. I would take existing content packs and mix and match them for my own use. I never thought I would ever spend the time to make a fully-fledged content pack! One day I was in the mood to make an edit of the CFO for Halloween. I made the head look like a pumpkin and decided to show a few people what I had made. To my surprise, I was getting positive comments on my work! This positive feedback is what motivated me to start creating content packs.

When asked about a part of Spectrum he is most proud of, he had this to say:

I would say the one aspect in Spectrum that I pride myself on is my unique boss designs. Creating an interesting design for a boss that fits the area's theming is a lot of fun! It can also be a bit tough, however. If you think sneaking in to fight a cog boss is difficult, try sneaking in to repaint one!
Moose is more than just a one-trick pony, however! He recently announced an upcoming content pack, Mist. We asked him about the process of creating a new pack and the experience he was hoping to create for players.
Creating a new content pack can be a very daunting task. It can take months to edit the textures and music; it can also be quite tedious. The final product is always worth it, however! As for my upcoming content pack, Mist, I hope to create a relaxing and moody experience. The content pack will feature darkened and desaturated textures and sounds of a thunderstorm in almost every game area.

Finally, we asked for his opinion on the hot button issue facing horse Toons today. Some have claimed that horse Toons actually resemble the likeness of moose. As an expert on this subject, we needed his opinion!
My identity has been a mystery for as long as I can remember. Am I a horse pretending to be a moose? Am I a moose that happens to look like a horse? Perhaps I could be a mythical creature that is a mix between the two? Funnily enough, I'm not sure I even know the answer myself!
We'll be contacting the Toon Council to make sure all horse and moose Toons are properly identified in the future.


Thomas Spotlight Interview
With 550 downloads of The Thomas Pack, this train conductor of a creator is barreling down the track of success. When it comes to how he got started, this is what he had to say:
I realized that no one in the Toontown community made anything completely based on Thomas The Tank Engine, so I was like: "Hey! Why not make a Thomas themed content pack for Toontown?" I was also very inspired by some of the Thomas mods you see in other games. Ever heard of the Really Useful Dragons mod for Skyrim? That mod is practically an inspiration for The Thomas Pack minus the fire breathing from flying engines and the falling troublesome trucks from the sky.
We would support fire breathing flying engines in the future. Just sayin'.
If I had to choose what I'm most proud of, I'd say some of the Cog aspects in the pack, mainly the Cog head & Cog HQ designs. The Cog HQs in The Thomas Pack were intentionally designed to be innocent, mainly because the music themes in Thomas & Friends are known to be mostly upbeat and cheery. So I made all the Cog HQs look very colourful, very innocent, and not so scary at all. It drives out all the gloomy, scary nature of the Cog HQs and makes me feel like I am not in danger or sad.

In the description of the pack, he mentions that it's meant to be a way for players to relive childhood memories, a mission we understand completely! Here's what he had to say about the ways his own childhood memories are incorporated into the pack:
I use Thomas & Friends music & themes that are canon to the franchise which I also remember in my childhood in The Thomas Pack so it can have a bit of a nostalgic feel to it. I think where I incorporate my childhood memories the best in the pack is the Toonfest Train Set. It is based on my childhood when I was playing with my wooden railway trains and my Tomy & Trackmaster trains at home for HOURS! I could watch my trains go along their way or do a little roleplay with them like one of the characters from the show.
Lastly, we asked him the most important question of all. If he had to be any Cog, which would he be?
I would be The Big Cheese because in The Thomas Pack, the Big Cheese head has my face on it!
Well said, Thomas. Well said.
Thanks for TOONing in for this three-part
partner spotlight
! To learn more about Content Packs and our featured partners, check out
toon.town/packs
!